Program Information
HARVESTING BEGINS in mid-June. There are 21 weekly deliveries scheduled throughout the season which continue until the end of November. Each delivery youíll receive a box filled with a variety of freshly picked vegetables. The box typically is packed with enough food to suit an average household of two to four people for the week. The early deliveries in the year are typically lighter in weight and volume with the amounts and selection of produce increasing as the season progresses. Occasionally the selection, the amount, or availability time for certain crops will be affected by unpredictable weather. Approximate harvest times of the different vegetables and herbs are shown on the "Produce Selection" page.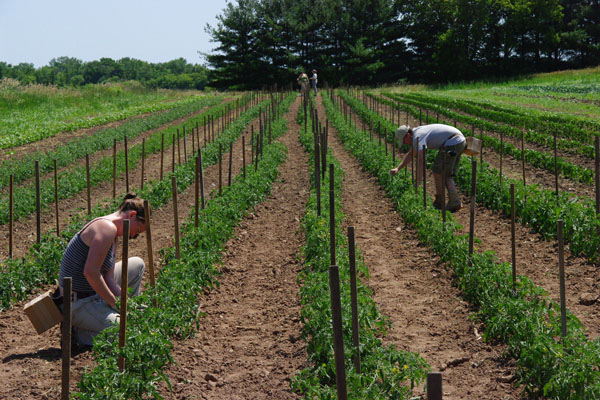 VEGETABLES, and Eggs are delivered each Thursday to convenient locations from Sheboygan to Milwaukee. Itís the responsibility of each member to come and pick up their box on the scheduled delivery day.
Addresses of all pick up locations are included with a confirmation letter youíll receive when you sign up. New sites may be added if there is the need. Available pick up sites are currently in the following communities:
Belgium - Rare Earth Farm
Grafton - Residence
Kenosha - Residence
Milwaukee, East side - Community Center
Port Washington - Residence
Sheboygan - Residence
EGGS
Eggs can be purchased for either weekly or bi-weekly deliveries along with the vegetables. Our laying hens are fed a ration of blended grains with no antibiotics or growth hormones. In addition, they have access to the outdoors where they roam and forage for their own natural foods while enjoying fresh air and sunshine.
FYI: Although we are not in favor of using any GMO grains, at the present time our chicken feed cannot be guaranteed from our supplier to be 100% GMO free. We hope to resolve this situation soon, and being the advocates we are for GMO labeling of food, we respectably disclose this information to anyone who might have a similar concern.
SOCIAL EVENTS
A fall harvest festival in October is held each year to celebrate the seasons bounty. A potluck supper along with pumpkin carving is followed up in the evening with a great bonfire.
-Vegetable Shares:
-Membership share cost is $580.00
-Payments can be made in full, or make two equal payments of $290.00
-Final Payment deadline: MAY 31st 2012
-Egg Shares:
-21 dozen, delivered every week - $78.75
-12 dozen, delivered every other week - $45.00
* All membership fees received are non-refundable.
* Memberships may still be available after the deadline dates listed above. Call, or e-mail us for possible openings
after those dates.