Work Share Opportunity
If you don't have any specific farm or garden related work experience to qualify for a paid position, and you're looking for a way to support the farm without paying for a membership consider participating in our volunteer "work share" program.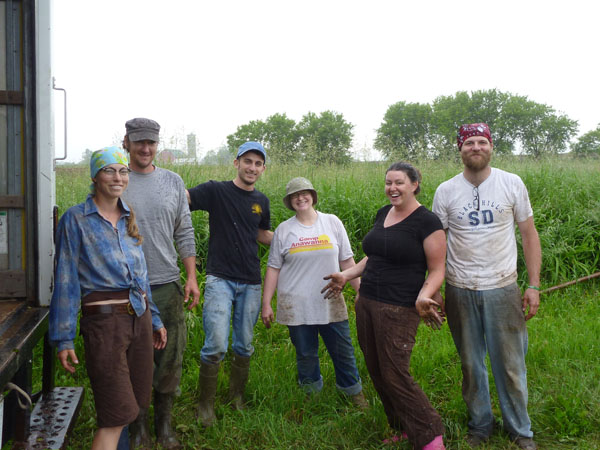 The work share program at Rare Earth is simply an opportunity for individuals to offer their hand at farming in exchange for the vegetables we grow. As a "work share" member you receive the same selection and quantities of food each week as those members who choose to participate as a "pay share" member. Work scheduling begins the first week in June and continues throughout the full delivery season, until the end of November.
What's it like working on a farm? Well, the season is long, and the work at times can be hard. The work can be strenuous and mundane at times, and may go well beyond your ordinary concept of hard work. Other days the work may be easy where conditions are perfect for spending a summer day working outdoors. Working at the farm on a good day may take you to a whole new level of appreciation for physical work. It can be relaxing and even a blissful experience to those people who can center themselves into the natural surrounding while performing the customary routine's of growing and harvesting food. The kind of experience you'll have working here will mainly depend on how you respond to the variable challenges and rigors of farming. Whatever the task may be for the day, and under all conditions you'll be expected to perform well with the group, and with no complaints.
Most everyone who participates in the program finds the experience to be positive and self-rewarding in more ways then by just receiving the food. Our goal with work share members is to have fun while staying focused on our tasks in order to accomplish our daily work agenda.
If you're still thinking about doing this after you've completely read this letter call or e-mail us to discuss your interest further, and to arrange a meeting for an interview.
Before you make the final decision to take on the work share program, be able to make a sincere commitment to yourself. Make a personal promise to stay with it no matter what obstacles may befall you along the way. Someone quitting in the middle of the season is always a big let down. Not just for us, but also for everyone working at the farm. The team spirit and togetherness we all share is what always gets us through the season. If you do stay with the program for the entire season, we're certain you'll recognize and feel the time was well spent.
Sincerely,
Steve Young & Debra Jo Becker
The following information details the rules and guidelines you'll need to earnestly agree to before accepting the work share position at the farm.
1. Time commitment. The work share program requires you to commit to a minimum of 4½ hours per week at the farm. In exchange for your work you'll receive the weekly vegetable share as described on the "program information" page. Work share members will report for their first day of work during the first week of June. The first two weeks are considered an orientation period and reporting for those weeks are mandatory. You need to report on schedule and on time each week. Being late once in a while is acceptable but making a habit of it will not be tolerated. In any case if you come in late plan on staying longer to make up the time. The first delivery for all members is scheduled for June 14th, in other words, during your second work week. You will only receive a box of food for the weeks you report to work. In other words, if you don't show up for your shift you forfeit your box of food. Also, to avoid any confusion about which food delivery you're working for, keep in mind you'll always be working for the forthcoming delivery.
2. Daily work schedule. Workdays are Saturday thru Wednesday. Choose one day that works well for you. You'll be expected to stay with the assigned day for the entire season.
Work hours are as follows:
Saturday thru Wednesday
8:00 a.m. – 12:30p.m.
You're welcome to stay longer if you like to help finish the day's goals. At later times
of the year during the peak fall harvest extra hands are always welcome.
3. Being prepared. You should be in good physical health in order to withstand the physical rigors of farming. Bending, lifting, crawling on your hands and knees are the type of activities you can expect to be doing. Being well equipped with the proper clothing is a must. You'll need to function in all temperatures ranges, from the unbearably hot days of summer to the bitter cold days of November. Outfitted with the right clothing for the day is extremely important. From raincoats to sunscreen, from shorts to long underwear, and even a change of clothing is what we expect everyone to come prepared with. Gloves, hats, and comfortable but durable shoes are also necessary items you need to have. If you have any special gardening tools you like using your welcome to bring them with you. Although not required, items you'll find useful are a pocketknife, a pair of pruning sheers, and your own water bottle.
4.Transportation. You need to have your own transportation. We don't object to
carpooling, but an alternate source of transportation is necessary. We don't want to
risk having you not show up for work because you couldn't get a ride.
5. Receiving your food box. Pick-up day for all members is every Thursday. You
can either choose to pick up your box of food at one of our pick-up locations near
your home, or come directly to the farm.
6. Work share parents. Work share members are not allowed to bring their
children to the farm on work days. You're welcome to bring them to the farm at any
other time as long as they are in constant supervision.