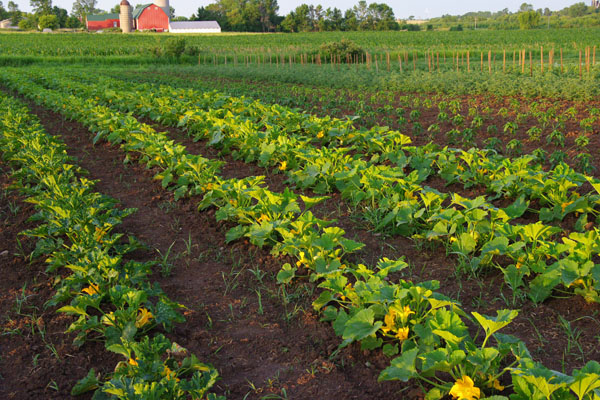 About Rare Earth Farm
RARE EARTH FARM is located about thirty miles north of Milwaukee off Hwy. 43 in Belgium Wisconsin. The farm has been dedicated to growing food for individual families by subscription since 1990. "Community Supported Agriculture" as its called forms an active partnership between the farmer and consumer. Funding for the farms entire operating costs are acquired from membership fees submitted prior to the season's start. By participating in the program each member receives an equal "share" of the total season's harvest.
OUR PHILOSOPHY in growing vegetables and raising livestock on our 20 acres is based upon using methods that are both rejuvenating to our soil, and beneficial in some way to the overall ecology of our farm. With our practices we use little or no chemical inputs for crop protection, and soil fertility. It's a fact that we eat this food too. We estimate some eighty percent of our total diet is the food we grow. Eating food grown naturally has always been extremely important to us.
Although our farm is not "certified organic" most of the techniques and materials we use are in compliance with USDA's NOP (National Organic Program)
Our primary emphasis is organic style farming and is augmented with methods also associated with biological farming. Soil testing, composting, cover crops, adding soil amendments, and integrated pest management (IPM) are all used in pursuit of a better and more natural approach to farming.
With over 20 years of serving as stewards to our land, we sense a great relationship to our soils. We've made a personal commitment in our business to renew and strengthen the association between small scale farmers, the consumer, and our precious earth. Our direct farm source for your favorite vegetables compares to the fresh, quality, nutrient-rich deliciousness of the produce you would harvest from your own back yard garden.
We're always at liberty to share more information about our farming practices. Simply send us an email with your questions.